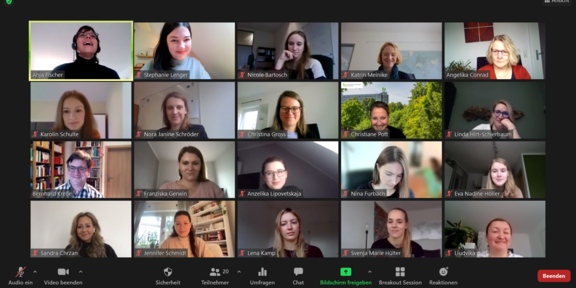 The new support program of the Department Business and Economics to promote the careers of women started on December 1, 2021 with an online kick-off.
Dean of Studies Prof. Dr. Bernhard Kreße warmly welcomed the mentees and mentors and highlighted the necessity of networks for the career development of women. The Faculty's Equal Opportunity Officer and patron of the Equal Opportunity Task Force, Prof. Dr. Anja Fischer, presented the faculty's mentoring concept and the associated annual program to the mentees.
As an outstanding role model for the career development of women, the former student of TU Dortmund University, Mrs. Katrin Meinike, now a manager at Baker Tilly, was invited as a guest speaker. Mrs. Meinike provided the mentees with exciting and personal insights into her career on this day. At the subsequent networking meeting in a virtual room of the online platform Gather Town, there was then an opportunity for the mentees and mentors to exchange ideas and get in touch with each other.